I may or may not have created a little mini-fandom for the city government that I have to cover here. It just makes it a little easier to wake up early and head to meetings where they discuss asphalt at length.
This is my current favorite thing:
The internet is truly a marvelous place. Have Taylor Swift and Trace Cyrus even been in the same room? I stumbled across this as a result of reading
this interview
, where Demi Lovato says the following:
"There's been so many times where if it wasn't for our fans, I don't know if we'd be together, because they've opened up my eyes to seeing - because I thought I was the only one who had a crush," she says. "And then I would see Jemi videos online, and feel like, 'Oh my gosh! Maybe there is something.'"
So, fanvid makers take hope? But seriously, I now would like to imagine that Jemi videos played a serious role in the conversation leading up to their coupledom--reviewing the footage together, etc. etc.
Speaking of the fandom of real people,
dotcoms_refresh
lead me to
this discussion about RPF/S
, and the differences between varying RP groups--bandom, SPN, skating, Trek, etc. I don't have an account there, so I can't contribute, but I do think that it's really interesting to think about the different reasons people are drawn to writing about the various "characters" in their area of choice.
I tend to think that bandom is appealing because, duh, people already like the music in question, and the fascination toward the people who create it sort of morphs into something else. In terms of fic, I think the challenge of attempting to get into the head of someone like Pete Wentz or Ryan Ross is fun.
To end on a less thinky note: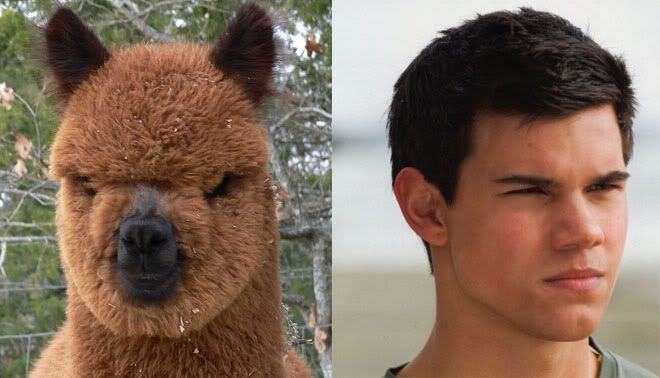 Not gonna lie, it kind of reminds me of that one awesome FOB story where Patrick went and became friends with llamas for a while. WHAT IF ONE OF THEM WAS A TAYLOR LAUTNER LLAMA, HMM?